ALyS505NK-AC and ALyS505NK-EX are serum-free, xeno-free cell culture mediums optimized for human natural killer (NK) cells derived from peripheral blood mononuclear cells (PBMCs). NK cells are crucial for innate immunity. Unlike T cells, they can damage virus-infected cells and cancer cells without prior sensitization.
Many applications necessitate the expansion of NK cells. However, in vitro cultivation of NK cells often results in a low expansion rate, an exhausted phenotype due to long-term expansion, and overgrowth of T cells if present in the initial culture. By employing ALyS505NK-AC for activation and ALyS505NK-EX for expansion, one can attain a highly pure, NK-rich population of cells in 14 days without the need for sorting with beads or flow cytometry.
Artificial Serum is recommended for the primary culture derived from PBMC. Both ALyS505NK-AC and ALyS505NK-EX are available with or without IL-2 (1000IU/mL).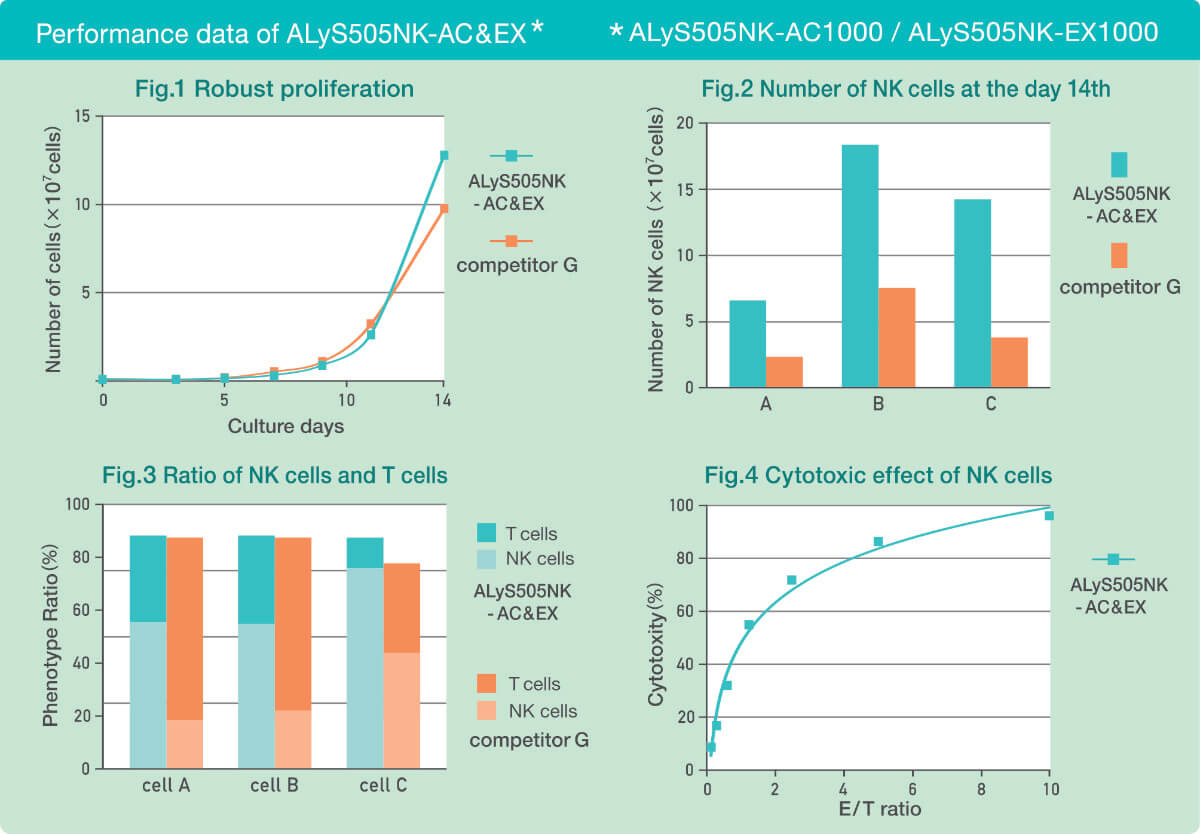 As shown in Fig. 1, the proliferation of PBMC cultured in ALyS505NK-AC & EX over 14 days was higher than that in competitor G's medium.
Highly efficient proliferation ratio of NK cells
In Fig. 2 and 3, PBMCs were collected from three donors and cultured with ALyS505NK-AC & EX and competitor G's medium. As depicted in Fig. 2, the number of NK cells obtained on day 14 was significantly higher when cultured with ALyS505NK-AC & EX. Furthermore, as shown in Fig. 3, the ratio of NK cells to T cells was between 55-75% and 45-25% with ALyS505NK-AC & EX. In contrast, only 25-45% of NK cells were obtained after culturing in competitor G's medium. Despite some noticeable variation among donors, ALyS505NK-AC & EX demonstrated highly efficient proliferation of NK cells and a high NK cell ratio.
Phenotype of NK cells are maintained
In Fig. 4, the cytotoxicity level of NK cells was evaluated by incubating them with K562 for four hours at varying E/T ratios. The NK cells cultured from ALyS505NK-EX exhibited cytotoxic activity even at low E/T ratios.
| Cat# | Product | Description | Size | Contents | Storage |
| --- | --- | --- | --- | --- | --- |
| 01600P02 | ALyS505NK-AC | IL-2 free (Activation) | 200ml | Bottle | 4°C |
| 01610P02 | ALyS505NK-AC1000 | IL-2 concentration 1,000lU/mL (Activation) | 200ml | Bottle | 4°C |
| 01400P10/01400C10 | ALyS505NK-EX | IL-2 free (Expansion) | 1L | Bottle/Culture Bag | 4°C |
| 01410P10/01410C10 | ALyS505NK-EX1000 | IL-2 concentration 1,000lU/mL (Expansion) | 1L | Bottle/Culture Bag | 4°C |
Manufactured by: Cell Science and Technology Institute
Cat#:

01600P02

Size: 200ml (Bottle)
Price: $100.00 → $90.00
IL-2 concentration 1,000lU/mL
Cat#:

01610P02

Size: 200ml (Bottle)
Price: $135.00 → $121.00
Cat#: 01400P10
Size: 1L (Bottle)
Price:$150.00 → $135.00
Cat#:

01400C10

Size: 1L (Culture Bag)
Price: Contact us
IL-2 concentration 1,000lU/mL
Cat#: 01410P10
Size: 1L (Bottle)
Price: $255.00 → $230.00
Cat#:01410C10
Size: 1L (Culture Bag)
Price: Contact us
FOR RESEARCH USE ONLY, NOT FOR USE IN DIAGNOSTIC PROCEDURES