Innovative labware for transporting live cells without freezing them
iP-TEC® labware is an innovative solution for transporting live cells without freezing them. Currently, freezing cells for transportation enables them to be transported in a stabilized condition. However, the thawing process is stressful to cultured cells. Furthermore, the freeze-and-thaw process is time, labor, and material-intensive, increasing the risk of cells being damaged or destroyed. iP-TEC® solves these problems by creating a 3-tiered packaging solution that maintains a healthy environment for cells during transportation.
Challenges in Cell Transportation
The risks and problems associated with frozen cell transport are damage to cells, cost, and time, but various challenges are also present in transporting live cells. Parameters such as temperature, pH, CO₂, contamination can change cells. Excess use of culture medium to prevent bubbles, sloshing can apply stress and damage to cells.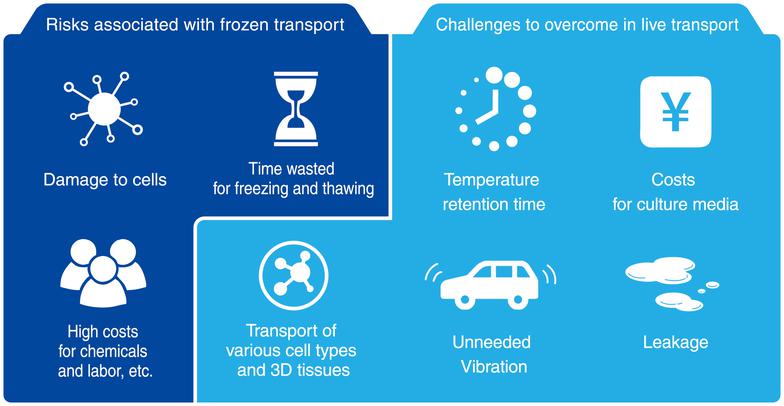 Addressing the Challenges
Existing Challenges
iP-TEC® Solutions
Temperature
The optimal temperature of cell culture is largely dependent on the body temperature of the host.
Temperature Stabilizer and insulated transportation box can maintain the temperature at 33-36 C for > 150 hours.
Healthy Environment
Cells have specific optimal environment. Each growth medium's buffering system depends on CO₂ minute ventilation and bicarbonate concentrations to achieve proper pH and osmotic pressure.
iP-TEC® system with the Culture PAL® CO₂ pack can maintain 5% CO₂ environment during transportation.
Contamination
/Leakage
Lack of proper seal leads to contamination and leakage.
Silicone rubber cover, complimented with iP-TEC® secondary containers provides proper seal.
Medium
Air in the container can cause sloshing resulting in shear force to cells. To avoid this medium is used in excess to fill the container in full.
The unique iP-TEC® Flask-25 requires about 55% less culture medium to fill to capacity compared to other 25cm² flasks.
Variety
There are various cell types, 3D tissues, and culture conditions
iP-TEC® labware consists of various plates, flask and containers to address different type of cells and culture conditions.
Building an iP-TEC® System
A complete iP-TEC system for live cell transportation includes a primary, secondary, and tertiary container with supplementary parts. Each component can be purchased for your cell transportation needs. Custom components are also available. Please contact us for more information regarding customizable containers.
Primary Components
Designed to reduce the amount of medium and allow ventilation as necessary.
Secondary Containers
Securely fasten and protect various sizes of primary components. Sealed and vented options are available.
Tertiary Components
Maintain an ideal temperature range to prevent degradation of the cells during transport.
How to use the Open vessel Live Transportation Device
Manufactured by:
Sanplatec Corp.
1-3 2-chome Doshin, Kita-ku Osaka 530-0035 JAPAN
SKU: 28448
Qty: 100 pcs
Price: $340.00~ →

$289.00
SKU: 28643
Qty: 10 pcs
Price: $110.00 →

$93.50
SKU: 28445
Qty: 100
Price: $655.00 →

$556.75
SKU: 28642
Qty: 50
Price: $660.00 →

$561.00
Qty: 6 pcs
Price: $275.00 →

$233.75
Qty: 6 pcs
Price: $275.00 →

$233.75
SKU: 28635
Price: $415.00 →

$352.75
SKU: 28636
Price: $415.00 →

$352.75

 
SKU: 28637S
Silicon cap (60 pcs) + Main Unit (240 pcs)  + 8-hole rack
Price: $1,105.00 →

$939.25
SKU: 28637
Qty: 60 pcs
Price: $690.00 →

$586.50
SKU: 28638
Qty: 240 pcs
Price: $415.00 →

$352.25
SKU: 28639
Qty: 1 pcs
Price: $48.00 →

$43.20
SKU: 28504P
Price: $33.00 →

$28.06
SKU: 28505P
Price: $296.00 →

$251.60
SKU: 28506P
Price: $36.00 →

$30.60
SKU: 28507P
Price: $324.00 →

$275.40
SKU: 28508P
Price: $49.00 →

$41.65
SKU: 28509P
Price: $441.00 →

$374.85
SKU: 28488P
Price: $110.00 →

$93.50
SKU: 28489P
Price: $990.00 →

$841.50
SKU: 28490P
Price: $116.00 →

$98.60
SKU: 28491P
Price: $1,044.00 →

$887.40
SKU: 28492P
Price: $123.00 →

$104.55
SKU: 28493P
Price: $1,107.00 →

$940.95
SKU: 28494P
Price: $178.00 →

$151.30
SKU: 28495P
Price: $1,602.00 →

$1,337.04
SKU: 28488
Price: $41.00 →

$34.85
SKU: 28489
Price: $369.00 →

$313.65
SKU: 28490
Price: $41.00 →

$34.85
SKU: 28491
Price: $369.00 →

$313.65
SKU: 28492
Price: $41.00 →

$34.85
SKU: 28493
Price: $369.00 →

$313.65
SKU: 28494
Price: $41.00 →

$34.85
SKU: 28495
Price: $369.00 →

$313.65
SKU: 28496
Price: $69.00 →

$58.65
SKU: 28497
Price: $621.00 →

$527.85
SKU: 28498
Price: $75.00 →

$63.75
SKU: 28499
Price: $675.00 →

$573.75
SKU: 28500
Price: $82.00 →

$69.70
SKU: 28501
Price: $738.00 →

$627.30
SKU: 28502
Price: $137.00 →

$116.45
SKU: 28503
Price: $1,233.00 →

$1,023.39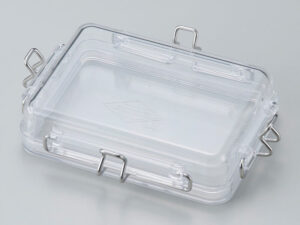 iP-TEC® Secondary Containers
SKU: 28516S
Price: $228.00 →

$199.05
SKU: 28516
Price: $109.00 →

$92.65
Mesh Cushion (20mm Tichkness)
SKU: 28530
Price: $7.00 →

$5.95
Mesh Cushion (30mm Tichkness)
SKU: 28531
Price: $7.00 →

$5.95
SKU: 28542
Price: $105.00 →

$94.50
SKU: 28451
Price: $37.00 →

$31.45
SKU: 28452
Price: $27.00 →

$22.95
Absorbent Sheet Only (36 sheets)
SKU: 28453
Price: $98.00 →

$83.30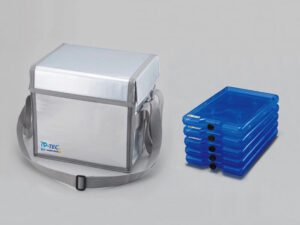 iP-TEC® Tertiary Containers
SKU: 28524
Price: $3,660.00 →

$3,037.80
SKU: 28543
Price: $440.00 →

$374.00
w/36ºC Temperature Stabilizer (2pcs)
SKU: 28466
Price: $405.00 →

$344.75
w/24ºC Temperature Stabilizer (2pcs)
SKU: 28487
Price: $405.00 →

$344.75
w/36ºC Temperature Stabilizer (5pcs)
SKU: 28465
Price: $1,260.00 →

$1,045.00
w/24ºC Temperature Stabilizer (5pcs)
SKU: 28485
Price: $1,260.00 →

$1,045.00
SKU: 28463
Price: $438.00 →

$372.30
w/36ºC Temperature Stabilizer (5pcs)
SKU: 28481
Price: $2,030.00 →

$1,684.90
w/24ºC Temperature Stabilizer (5pcs)
SKU: 28486
Price: $2,030.00 →

$1,684.90
SKU: 28482
Price: $1,345.00 →

$1,116.35
w/36ºC Temperature Stabilizer (6pcs)
SKU: 28462
Price: $2,300.00 →

$1,909.00
w/24ºC Temperature Stabilizer (6pcs)
SKU: 28484
Price: $2,300.00 →

$1,909.00
SKU: 28460
Price: $1,478.00 →

$1,226.74
FOR RESEARCH USE ONLY, NOT FOR USE IN DIAGNOSTIC PROCEDURES