MC-210 is a cost-effective solution for eliminating mycoplasma contamination. This agent demonstrates high removal effects against common contaminants such as Mycoplasma orale.
Mycoplasma contamination can unpredictably alter numerous parameters. Often, mycoplasma coexists with your cells instead of killing your cultures, skewing titers before producing noticeable effects. It can interfere with cell migration, signal transduction, lymphocyte activation, and cytokine expression.
KAC's MC-210 Mycoplasma Removal Agent (MRA) contains quinoline as an antibiotic due to its mycoplasmacidal properties. Quinoline inhibits mycoplasma DNA gyrase or the topoisomerase IV enzyme and interferes with DNA replication. The recommended treatment dose is 0.5 μg/mL for 1 week. Developed by Dainippon Pharmaceuticals, it has proven to be an effective elimination treatment with low cell toxicity for over 20 years.
1. Add the agent at a final concentration of 0.5µg/mL to cultured cells contaminated by mycoplasma and wait for one week. 
Example: With 10mL of culture media in a 25cm² culture flask, add 0.1mL of the agent.
2. When the culture media is changed, add the agent at a comparable concentration.
3. After one week, add media without the agent and verify that there is no mycoplasma growth in the cell culture.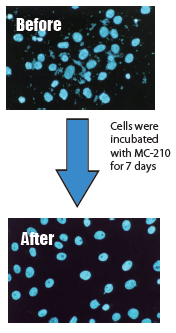 This agent is for research purposes and should be used only as a mycoplasmacidal agent for cell culture. Please strictly follow the required concentration for use (0.5µg/mL). If mycoplasma is still observed after treatment, increase the concentration to 1µg/mL.
Toxicity of this agent to cultured cells is low, and cytotoxicity was not observed at the required concentration. However, for specific functions of cells, please verify that there are no abnormalities after mycoplasma removal.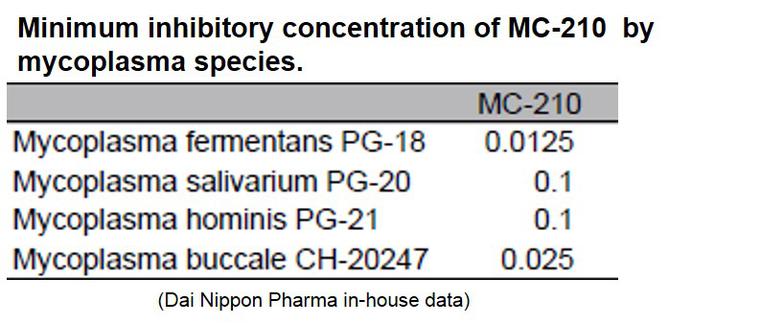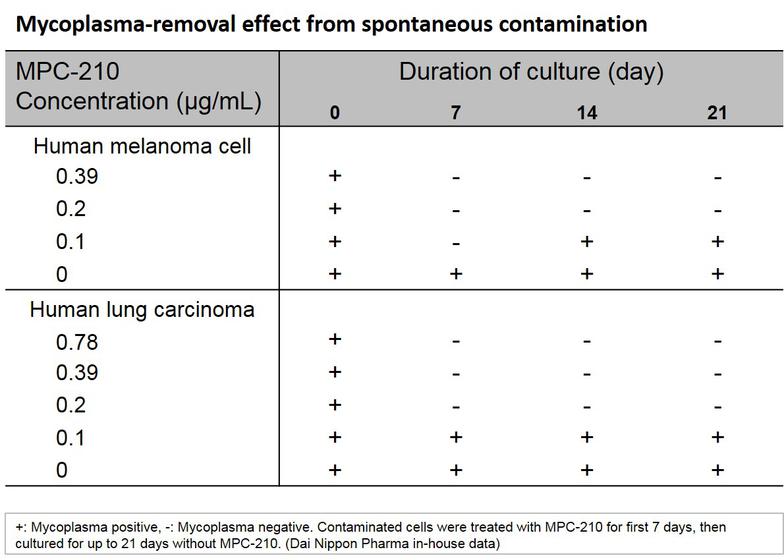 Pack Size: 5 mL
Concentration: 50 µg/mL
Storage method: Stable at room temperature (4°C – 37°C). Please protect from light and store in the dark.
Manufactured by: KAC Co., Ltd.
SKU: KM881012SAMPLE
Price: $30.00
Incl. US shipping fee

* Only one purchase per lab *
SKU: KM881021
Price: $285.00 → $256.00
Harigae, M., Matsumura, M. & Kataoka, H. Kinetic study on HBs-MAb production in continuous cultivation. Journal of Biotechnology 34, 227–235 (1994) doi: 10.1016/0168-1656(94)90058-2.
NAKAI, N. et al. Detection and Elimination of Contaminating Microorganisms in Transplantable Tumors and Cell Lines. Experimental Animals 49, 309–313 (2000) doi: 10.1538/expanim.49.309.
Burdek, M. et al. Three-day dendritic cells for vaccine development: antigen uptake, processing and presentation. J Transl Med 8, 90 (2010) doi: 10.1186/1479-5876-8-90.
Pincus, S. H. et al. Fine specificity and cross-reactions of monoclonal antibodies to group B streptococcal capsular polysaccharide type III. Vaccine 30, 4849–4858 (2012) doi: 10.1016/j.vaccine.2012.05.006.
Habib, A. et al. Mycoplasma hyorhinis markedly degrades beta-amyloid peptides in vitro and ex vivo: a novel biological approach for treating Alzheimer's disease? Am J Transl Res 5, 634–642 (2013).
Boyko-Fabian, M., Niehr, F., Distel, L., Budach, V. & Tinhofer, I. Increased growth-inhibitory and cytotoxic activity of arsenic trioxide in head and neck carcinoma cells with functional p53 deficiency and resistance to EGFR blockade. PLoS One 9, e98867 (2014) doi: 10.1371/journal.pone.0098867.
Guth, A. M., Deogracias, M. & Dow, S. W. Comparison of cancer stem cell antigen expression by tumor cell lines and by tumor biopsies from dogs with melanoma and osteosarcoma. Vet Immunol Immunopathol 161, 132–140 (2014) doi: 10.1016/j.vetimm.2014.07.006.
Strand, D. W. et al. TGF-beta induction of FGF-2 expression in stromal cells requires integrated smad3 and MAPK pathways. Am J Clin Exp Urol 2, 239–248 (2014).
Sun, G., Zhao, G., Lu, Y., Wang, Y. & Yang, C. Association of EMP1 with gastric carcinoma invasion, survival and prognosis. Int J Oncol 45, 1091–1098 (2014) doi: 10.3892/ijo.2014.2488.
Dateyama, I. et al. RABL2 positively controls localization of GPCRs in mammalian primary cilia. J. Cell Sci. 132, jcs224428 (2019) doi: 10.1242/jcs.224428.
FOR RESEARCH USE ONLY, NOT FOR USE IN DIAGNOSTIC PROCEDURES