BIOMIMESYS® Liver is a Hyaluronic acid (HA) based scaffold 3D cell culture model. This groundbreaking 3D cell culture technology associates the behavior of a solid scaffold and of a hydrogel, which we call "Hydroscaffold". The Hydroscaffold's composition and mechanical properties can mimics the microenvironment of Liver. It is proven to provide better in vitro/in vivo correlation and cell longevity than 2D models.
For a better cell longevity and a proper phenotype

BIOMIMESYS® Liver is dedicated to the culture of liver cells such as hepatocytes. Unlike in 2D culture, primary human hepatocytes in 3D within BIOMIMESYS® Liver had their enzymatic activities (e.g. CYPs) and albumin secretion maintained until 21 days.
For a better in vitro/in vivo correlation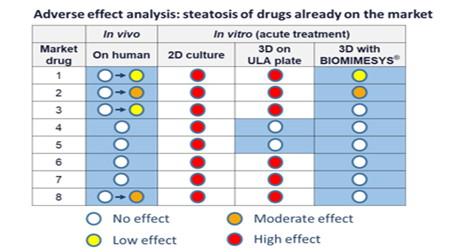 BIOMIMESYS® Oncology is EASY & READY TO USE. Upon receiving the vacuum sealed 96-well plate open it (under a hood) and add the cells directly on top of the matrix. Changing the culture medium is easy as well. To remove medium, simply draw the medium with a pipette between the matrix and the edge of the well. To refresh the medium, place fresh medium onto the surface of the matrix.

Successfully Tested Cells
Compatible with Most Downstream Applications
BIOMIMESYS® hydroscaffold has many properties (transparent, porous, biodegradable, & solid) making it ideal for use with numerous downstream applications.

Composition
:
Hyaluronic acid (HA) (1.6MDa) grafted with RGDS

Adipic acid dihydrazide (ADH) as crosslinker

Collagen Type I & VI

Galactosamine
Physicochemical Features
:
Young's modulus: ~0.6kPa – different stiffness is available through customization

Porosity: 117±23μm
SKU: BIO_LIV_96_24_transp
Price: $410.00 → 

$369.00
SKU: BIO_LIV_96_24_black
Price: $410.00 → 

$369.00
SKU: BIO_LIV_96_96_transp
Price: $590.00 → 

$531.00
SKU: BIO_LIV_96_96_black
Price: $590.00 → 

$531.00
384 Hydrogel / 384 Well / Black
SKU: BIO_LIV_384_384_black
Price: $665.00 → 

$600.00
SKU: BIO_LIV_384_384_black_5
Price: $2500.00 →

$2250.00
1. Bachmann, A. et al. 3D Cultivation Techniques for Primary Human Hepatocytes. Microarrays (Basel) 4, 64–83 (2015) doi: 10.3390/microarrays4010064
2. Wilkening, S., Stahl, F. & Bader, A. Comparison of primary human hepatocytes and hepatoma cell line Hepg2 with regard  to their biotransformation properties. Drug Metab Dispos 31, 1035–1042 (2003) doi: 10.1124/dmd.31.8.1035.
FOR RESEARCH USE ONLY, NOT FOR USE IN DIAGNOSTIC PROCEDURES