BIOMIMESYS® Brain is a Hyaluronic acid (HA) based scaffold 3D cell culture model. This groundbreaking 3D cell culture technology associates the behavior of a solid scaffold and of a hydrogel, which we call "Hydroscaffold". The Hydroscaffold's composition and mechanical properties can mimics the microenvironment of brain tissues. It is proven to provide better in vitro/in vivo correlation than 2D models.
Mimics the Microenvironment of Brain Tissue
By mimicking the low stiffness of brain tissues, BIOMIMESYS® Brain allows to grow mini-brains (spheroids of brain cells) or neuronal networks in 3D.

For a better in vitro/in vivo correlation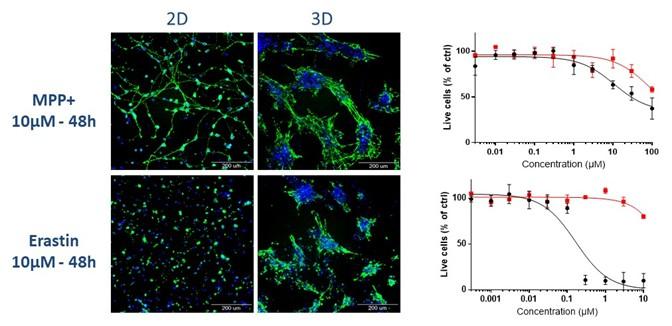 By using a brain-specific ECM with BIOMIMESYS® Brain, Luhmes cells showed lower sensitivity to Parkinson's disease inducers in BIOMIMESYS® compared to 2D culture.
BIOMIMESYS® Oncology is EASY & READY TO USE. Upon receiving the vacuum sealed 96-well plate open it (under a hood) and add the cells directly on top of the matrix. Changing the culture medium is easy as well. To remove medium, simply draw the medium with a pipette between the matrix and the edge of the well. To refresh the medium, place fresh medium onto the surface of the matrix.

Successfully Tested Cells
Cell Lines
Human brain metastasis: SA87
Human neuroblastoma : SH-SY5Y
Human glioblastoma : CB109 / CB74 / CB191
Human gliome : DIPG007
Normal human neurons :  Luhmes
Normal human colon fibroblast : CCD18-co
Normal mouse preadipocytes : 3T3-L1 / 3T3-F442A
Human colorectal adenocarcinoma : HCT 116
Human liver hepatocellular carcinoma
Primary Cells
Human astrocytes : cryopreserved
Mouse neuronal cells

Stem Cells
Human induced pluripotent stem cells : CNS4U, Peri4U
Complete List of Tested Cells [PDF]
Compatible with Most Downstream Applications
BIOMIMESYS® hydroscaffold has many properties (transparent, porous, biodegradable, & solid) making it ideal for use with numerous downstream applications.

Composition:
Hyaluronic acid (HA) (1.6MDa) grafted with RGDS

Adipic acid dihydrazide (ADH) as crosslinker

Collagen Type IV

cationic bioplolymer
Physicochemical Features:
Young's modulus: ~0.1kPa – different stiffness is available through customization

Porosity: 150±30μ
SKU: BIO_BRA_96_24_transp
Price: $410.00 → 

$369.00
SKU: BIO_BRA_96_24_black
Price: $410.00 → 

$369.00
SKU: BIO_BRA_96_96_transp
Price: $590.00 → 

$531.00
SKU: BIO_BRA_96_96_black
Price: $590.00 →

$531.00
De Conto, V. et al. In vitro differentiation modifies the neurotoxic response of SH-SY5Y cells. Toxicology in Vitro 77, 105235 (2021) doi: 10.1016/j.tiv.2021.105235.
FOR RESEARCH USE ONLY, NOT FOR USE IN DIAGNOSTIC PROCEDURES